Polycom HDX 7000 Series

Polycom HDX 7000 Series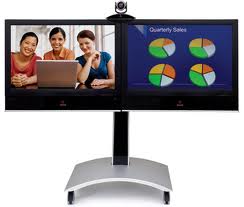 High Definition Quality for the Standard Conference Room –
Telepresence solutions for organizations that want to bring together dispersed team members for enhanced collaboration.
The Polycom HDX 7000 Series provides flexible, affordable HD video conferencing for high-quality communication throughout mainstream workplace environments. Expanding the utility of visual communication quickly and easily, Polycom HDX 7000 Series systems are ideal for education, medical, enterprise and on-demand collaboration applications.
Enhancing Collaboration with HD Technology
Intuitive interfaces allow users to adopt and use Polycom HDX 7000 Series systems quickly, while a variety of bundle options enable the Polycom HDX 7000 Series systems to be wall-mounted, free-standing or easily wheeled to any location to accommodate visual communication in any room. With embedded multipoint and content sharing capabilities, Polycom HDX 7000 Series systems allow individuals to collaborate in HD detail on centecnt such as diagrams, project plans, multimedia presentations and more.
Leveraging Polycom's renowned quality and designed to high-definition standards, Polycom HDX 7000 Series systems utilize features such as Polycom HD Voice technology to deliver patendted, crystal-clear audio and Polycom StereoSurround audio to separate room sounds into left and right channels to deliver physical-sense spatiality to opposite-end participants.
Benefits:
High-definition video conferencing – Natural communications in 1280 x 720 at 30 fps, with exceptional resolution even at lower data rates.
High-definition voice – Polycom Siren 22 and Polycom StereoSurround technology for superior audio performance
High-definition content sharing – Polycom collaboration technology for sharing graphics, presentations and rich-media content with HD and non-HD systems
Embedded multipoint – Optional four-way embedded multipoint bridge for greater flexibility and participation
Flexible connectivity – Optional interfaces for easy access to BRI, PRI or V.35 networks
Call us on 021 551 1206 for best pricing and demonstrations.